Adopting Cloud technology comes with a new financial model.  Variable spending becomes the standard, while the "spending power" goes from procurement teams to engineers.  One button click can lead to instant costs.  The agility of cloud technology does have a flipside of the medal.  It's a matter of time before a CIO will get confronted with "the invoice from hell".  The invoice with a sudden significant consumption cost.  One month to the other.  Nobody saw it coming.  And worse, nobody knows what triggered it.
Cloud Financial Management (or FinOps) will help customers to:
Understand cloud consumption cost
Optimize their spending
Avoid unexpected costs from happening
To get control over consumption costs in a cloud centric IT environment we use an industry standard FinOps framework,  This framework is managed by the FinOps Foundation.  45° is adopting this framework as a baseline and we fit it in our standard Cloud Center of Excellence approach.
3 Phazes
The foundation of the FinOps framework consists of 3 phazes:
These 3 phazes are run in an ongoing iterative way.  A FinOps roadmap will be drafted with a "crawl-walk-run" approach and with specific KPIs.
Domains and Capabilities
6 FinOps domains are used to structure the process.  Within these domains we cover a total of 15 capabilities.
This framework allows us to bring structure to the FinOps program.  It introduces a top-down methodology based on industry best practices and it allows us to track progress of the program.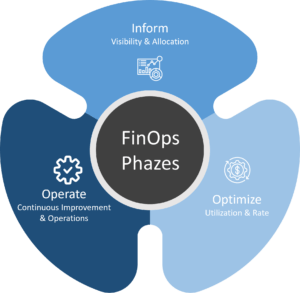 Understanding Cloud Usage and Cost
This Domain answers the question: What are we spending on cloud and what are we using?
Within this Domain, the organization will work to gather all required information about its cloud usage and cost, normalize it, make it available for review, including circulating it to those personas that will use it in other Domains.
The Capabilities within this Domain focus on understanding and allocating the cost and usage within the organization, and not on actioning it for a particular purpose.
This Domain enables an organization to understand what cloud services it's using, what is driving spend, and who owns that spending. It provides key data consistently to support a picture of current cloud usage and a view into historical trends, at a level of granularity appropriate to the organization current maturity level to support the second Domain: Performance Tracking and Benchmarking.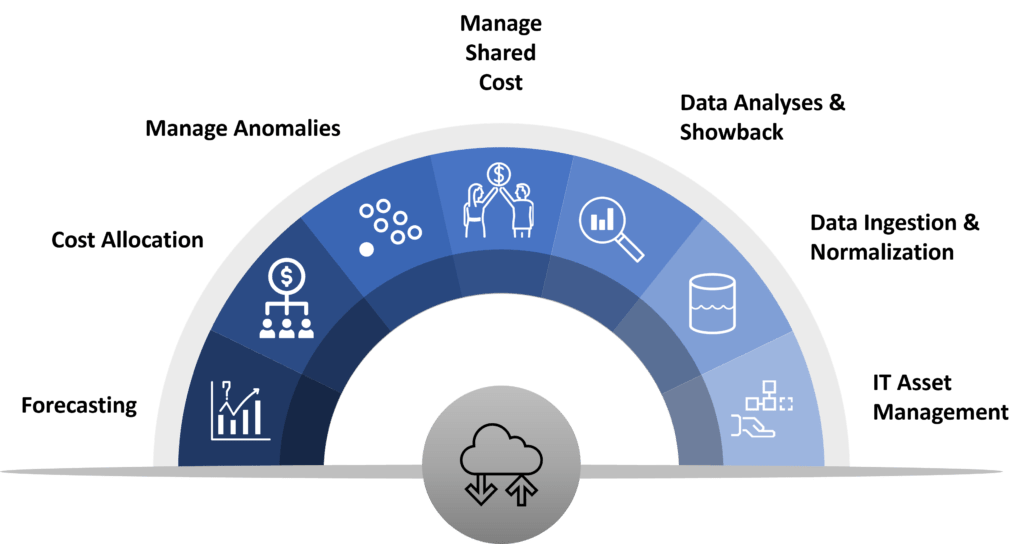 Performance Tracking & Benchmarking
This Domain answers the question: Does what we're using/spending allow us to achieve our strategic and organizational objectives?
Within this domain, the organization sets and maps its usage and cost to budgets, uses historical information to forecast, and establishes and measures KPIs and other performance indicators, including benchmarking.
This Domain entails the capabilities that look at our past and current spend, set baselines and budgets, and then forecast to help us understand if what we're spending is expected, understood, and at a level that allows us to meet our organizational objectives.
Real Time Decision Making
This Domain answers the question: What actions can I take now to allow me to better meet my organizational goals and objectives?
When we understand what we are spending, and understand how we are performing relative to expectations and standards, we can then use that information to make real-time decisions as we receive new information.
The goal here is not to specifically strive for real-time data in and of itself, but to leverage timely access to consistent cost & usage data for making continuous adjustments.
This Domain improves stakeholder enablement by curating data in stakeholder-specific contexts, iteratively improving decision velocity and aligning organizational processes to the realities of operating in the cloud. Over time we strive to push this decision making further into the organization's edges, enabling activities for the subsequent Domains.
This domain answers the question: How can we change what we're paying and how we're buying what we use in the cloud to achieve better price performance?
Within this domain, the organization works to define its pricing model goals, uses historical data to make pricing model adjustments by buying commitment based discounts, and works to manage the pricing aspects of services it is using in the cloud.
The Rate Optimization domain will contain the specialized capabilities to improve the manner in which we purchase cloud services, and ensure our pricing models, purchase options, and committed use are consistent with our goals.
This Domain answers the question: How can we change what we're using and when we're using it in the cloud to better meet our organizational goals?
Within this domain, the organization identifies and takes action to match running cloud resources to the actual demand of the workloads running at any given time. This work involves predictive rightsizing of resources, managing workloads to align with the correct number of scaling resources, turning resources off when not in use, and other techniques.
The Usage Optimization domain contains the set of capabilities to match our actual workload needs to the cloud services we use at any given time as closely as possible. Using the right resources, in the right size, only when we need them to produce business value is ultimately what the variable use model of cloud allows us to do to maximize value to our business.
This Domain answers the question: What changes can I make within my organization to use cloud more effectively?
Within this domain, the organization acts and automates to manage cloud use within the context of other IT Finance activities, and integrates FinOps capabilities with existing organizational processes, organizational units, and technology.
This Domain contains the capabilities we'll use to continuously improve, to change and align our organization itself - its people, processes and technology - to use cloud in the way it will benefit the company best. Actions here may be to improve persona centric enablement, FinOps training and adoption, and to align existing processes to support cloud use more effectively.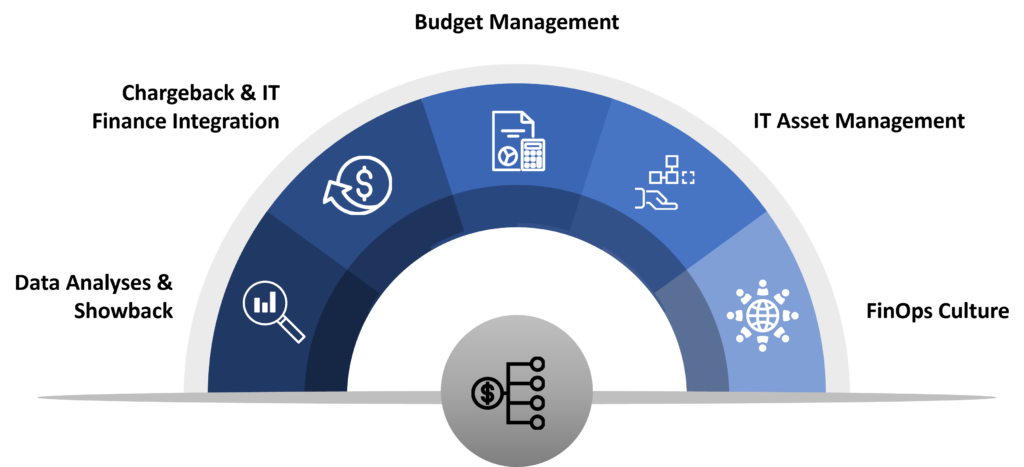 Need some help or guidance on your FinOps journey?
We are happy to listen, and even more to help.
Need some help or guidance on your transformation journey? We are happy to listen, and even more to help.